Soft water where you want it – no restrictions.
Eliminate the hassle of buying and maintaining a water softener with Culligan's Portable Exchange Service.
An ideal solution for homes, seasonal properties, and places where traditional water softeners may be prohibited due to salt or brine limitations, water rationing, or strict water-usage requirements, Culligan's Portable Exchange Service solves your water softening needs. It also means minimal maintenance that's always handled by your Culligan Water Expert. Delivered resin filter media tanks work to condition water, providing simple access to soft water wherever you need it.
Skip the Salt – Enjoy softer water without the hassle of dealing with salt, whether it's remembering to pick it up at the store or hauling those heavy bags.
Forget Regulatory Worries – Portable Exchange is permitted nearly everywhere traditional water softeners are heavily restricted or not allowed at all.
Schedule with Ease – Your Culligan Water Expert delivers and installs your tank, then returns to service and maintain it on a schedule that works for you.
Whatever kind of home or seasonal property you have, your local Culligan Water Expert can customize a Portable Exchange Service to work for you. Contact us today to find the right solution.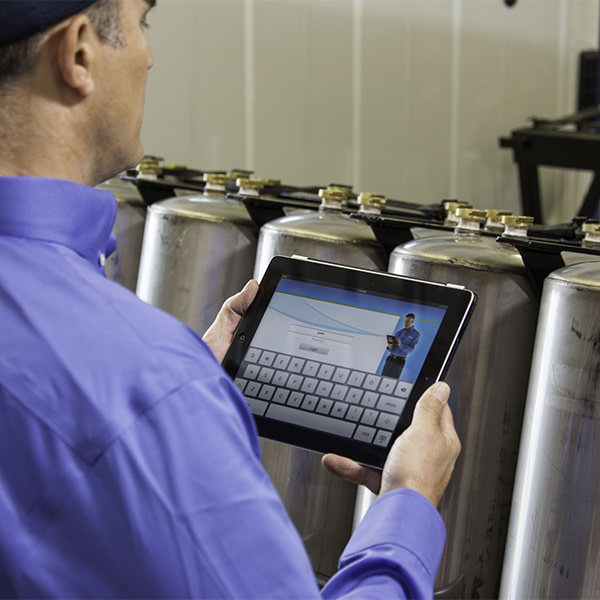 Benefits of Culligan's Portable Exchange Service
Flexible and convenient water softening.
Requires minimal installation that's all handled by your Culligan Water Expert.
No extra water usage – can be used in areas where water is rationed or tightly regulated.
No added utility cost since it doesn't use your electricity.
Perfect for communities with brine or saline discharge limitations.
Specifications of Culligan's Portable Exchange Service
With the Culligan Portable Exchange Service program, your Culligan Service Technician will provide:
Regularly scheduled water softener tank delivery.
Soft water without the need for installing a traditional unit.
Maintenance by your Culligan Water Expert on your schedule.
30-day satisfaction guarantee.*
​Tips from the Culligan Water Expert: Get better-tasting water where you want it with Culligan's water delivery service and customized drinking water solutions.
Service and Support
Trust Your Portable Exchange Service to Your Culligan Water Expert.
No matter the product, your local Culligan Water Expert can service and repair any brand of water softener, water filter system, or drinking water system. Ask about our Culligan Service Agreements for the most convenient and reliable service for your water treatment system.
Your local Culligan Water Expert can recommend the right solution for you.
Payment Options
Products and Payment Plans for Every Household.
Ask about a Culligan Service Agreement to protect your investment. Professional installation and setup is included for all options.
Which payment option is right for you?
Renting
● One low monthly fee includes all service and repairs.
● Rent-to-purchase agreements may be available.
Purchasing
● Combines with other home improvement expenses.
● Professional installation and setup.
● Adds value to your home.
Financing
● Little to no money down.
● Affordable payment options.
● Professional installation and setup.
*Culligan 100% Satisfaction Guarantee – If you are dissatisfied with your Culligan product for any reason within 30 days of your purchase, Culligan will remove the product and refund the purchase price. Culligan Dealers are independently operated. Offer valid on products sold for residential use. You must notify your participating Culligan Dealer of your decision to return the product no later than 30 days after your date of purchase.